Family Jigsaws (The Teen Years)
AN ONLINE 8-WEEK PARENTING COURSE.
For parents raising young people aged 12-18+

TUESDAY 16TH MAY – JULY 11TH 2023 (No session during June half-term)
£120 per parent/guardian
(20% spouse/Additional friend discount available)
About the course:
Parenting teens is often a challenge. Raging hormones affect moods, emotions and impulses, and the pressures of the peer group magnify. Many parents struggle to connect during this turbulent time and teens lose their sense of security and look for belonging elsewhere. For many families the struggles have heightened as we have been under lock down and with much uncertainty, which impacts on wellbeing in different ways for both parents and young people.
When we understand our relationships with ourselves and our teens we can begin to know ourselves to much greater depths. In improving these relationships we dramatically improve the quality of our family life and wellbeing.
The course includes:
Understanding the teen brain and behaviour
The power of narratives
Freedom vs responsibility and accountability
How to deal with guilt and self-doubt
Understanding how physical, emotional, mental and spiritual well-being work together – particularly  in current situation of uncertainty
Awareness of social contexts and setting/maintaining boundaries
Power and justice in relationships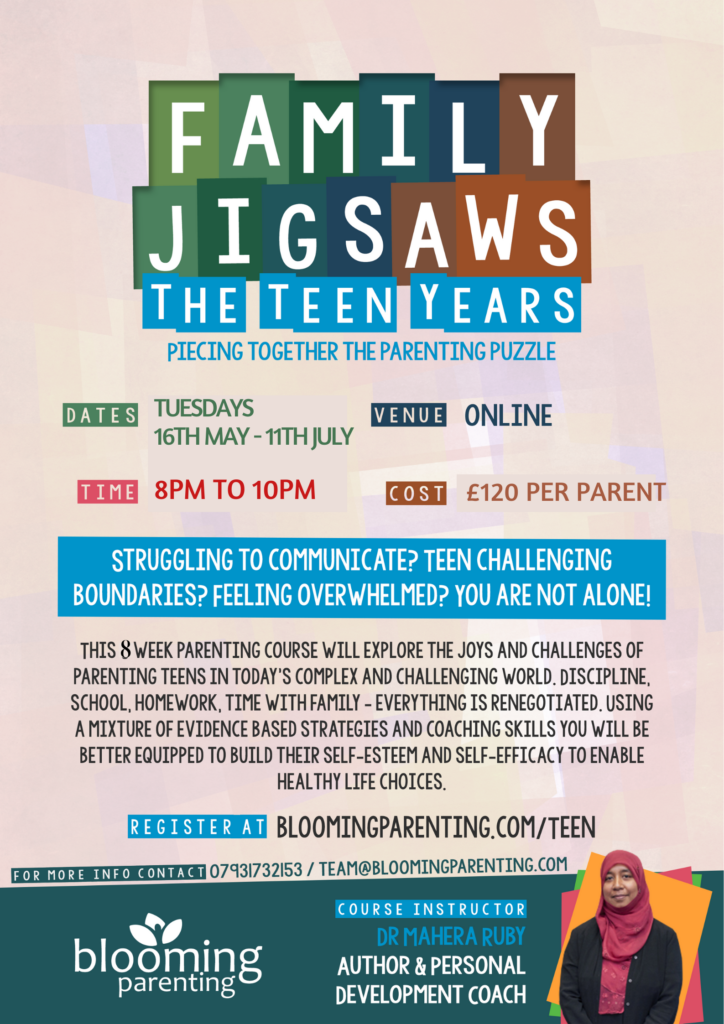 "Thoroughly enjoyed every week and was eagerly waiting for each session. I found sessions really useful and found myself change in many ways. I'm much calmer and think before I speak/react to my teens" – Malika (Mother of 15 year old)

"I signed up to this course hoping it would bring my children a little closer to their Creator. The course, however, exceeded all expectations. Dr Mahera Ruby presents relevant academic theory, combines it with a wealth of practical experience and compassionately guides participants through a journey of self-discovery whilst unwrapping the thoughts, feelings and behaviours of our adolescents in the most thought-provoking ways. Throughout this journey attendees are reminded about their motives in parenting and the essential ingredients for success. They are given practical interventions to try and generic protocols to go through when faced with the constant challenges of parenting. She provides hope as well as help in the form of knowledge and tips that serve to empower parents, boost their confidence and help them succeed. Last but not least she prays for all participants - needless to say the course is worth every penny and in fact priceless."
"Very informative, really enjoyed the group. Always enjoy Dr Ruby's classes she runs. Take so much knowledge away!"
"It was very good, another step towards conscious parenting. I learnt a lot of new things and am slowly applying them!"