NEW BEGINNINGS

A Course for New Couples and Couples To Be

COMING SOON…
About The Course:
This course explores how a couple can build a relationship with Islamic principles of mutual respect and conflict resolution. Newlyweds or soon to be married, this is a fantastic opportunity for couples to explore, own, invest in and enrich their core values.
Couples have the opportunity to discuss their hopes and dreams for themselves and their families, find out how they can communicate at a deeper level, deepen their friendship, and learn how to deal with family-life balance. They will also discuss some crucial topics such as finances, parenting, intimacy and in-laws.
The course addresses:
5 Ps to fulfilling relationships
Assessing and realising core values
Roles, Responsibilities, Duties and Rights
Navigating in-law relationships
Managing conflict
Planning for parenthood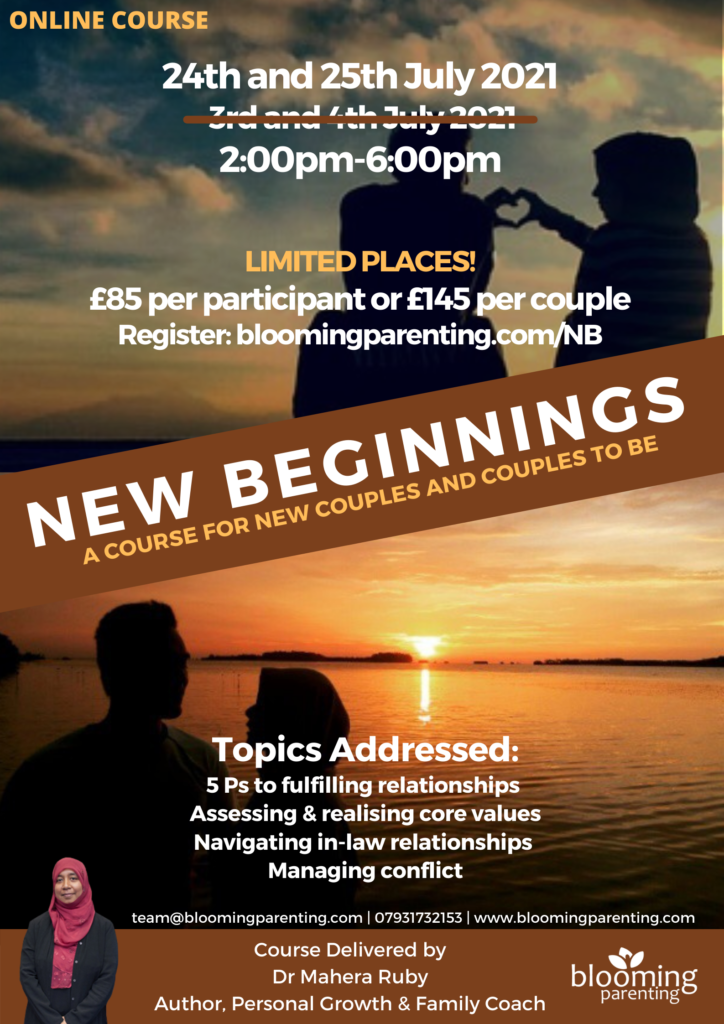 Testimonial:
'Understanding each others core values has really helped me and my husband to have conversations which we did not think was necessary until now. Dr Ruby has a way of enabling couples to explore their fears and anxieties with reflection and honesty within a comfortable and safe environment' – Sumayah and Tareq (Couple expecting their first child)