Blooming Teens
A series of 4 workshops.
For teens aged 12-16.
Coming Soon…
Anxiety, sadness, and a host of insecurities are all too common amongst teenagers in today's fast-paced and demanding world. Not enough is out there to support teenagers get through their formative years and address the challenges and feelings they struggle with around faith, identity, vision, confidence, family, wellbeing, and more. This course engages these issues directly from a well-informed faith perspective, and allows the participating teenagers to have the frank conversations they can't have elsewhere in a supervised and healthy setting.
These four workshops intend to provide the platform for the attending young people to explore these challenges and gain an insight into what will enable them to increase their self-esteem and be more confident in who they are. Participants will also be encouraged to explore, through the workshops and interactive group discussions, what influences behaviours and relationships and how they can cope with the challenges of daily life.
These workshops will enable participants to develop skills of understanding, empathy and interdependence, helping them to form healthy and stable relationships in their lives.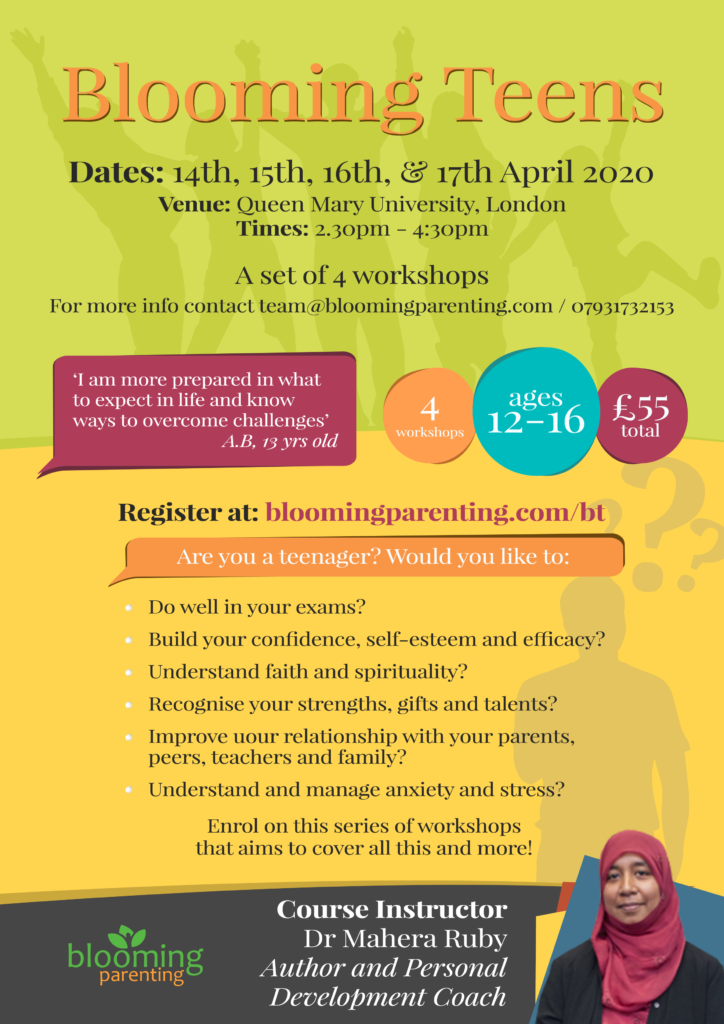 "I learnt things like knowledge about why teenage years are hard, such as, the fact that your brain is rewiring when you are a teenager. I really liked the tree of life activity" – Aisha, aged 14
"I am more prepared in what to expect in life. How to overcome challenges."
"I found the course useful and the group activities fun. The best is the fact that Dr Ruby understands our situation which makes the course more relatable rather than a lecture. I found the activities which was action like where we took steps whenever we were asked a question most useful."
"I enjoyed the group activities and I felt free to ask questions and Dr Ruby answered my question in a really inspiring way. I learnt about my teenage brain and how to see eye to eye with my parents!"