Family Jigsaws
(Early-Primary Years)
AN ONLINE 8-WEEK PARENTING COURSE
For parents raising children aged 3-12.
THURSDAYS 8PM-10PM
5TH JAN – 2ND MARCH 2023
£120 per participant
(20% Couple/Additional friend discount available)
About the course:
The early-primary years are a time of transition and can be challenging for both parents and children. Within a relaxed and safe online learning environment, the course gives parents the opportunity to talk about the everyday challenges as well as sharing the things that are going well. Insightful knowledge, research, real-life experiences from fellow parents and case studies all combine to create a unique understanding on what it takes to be a parent of young children growing physically, emotionally, mentally and spiritually. 
As children approach the tween years, hormones kick in as does puberty and the pressures of the peer group starts to creep in. Many parents react to their tween's moodiness and distance their attention from their child. While they may not express it tweens seek security as they try to deal with their exciting but scary world outside the family. Children who feel disconnected from their parents lose their anchor and look for it elsewhere.
The course addresses:
Creating firm foundation for tweens to prepare for the teen years
How to encourage age-appropriate boundaries and positive discipline – Particular attention will be given to current situation of uncertainty
Responsibilities to inculcate the value of interdependence
How to be role models and maximize influence! 
Self-care to instil self-worth during times of distress
Strengthening the bond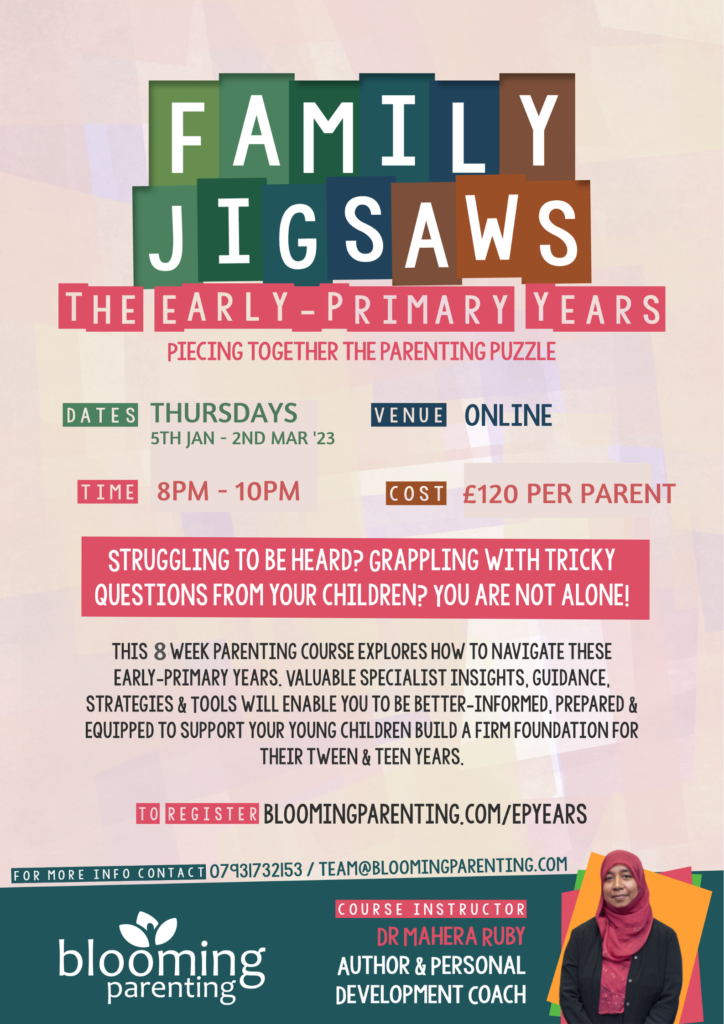 "Was incredibly relevant to my life at that moment. Great activities I can take home to kids. I liked the way Dr Ruby brought humour into parenting!" – Khalida (Mother of 8 year old)
"We came across Dr Ruby's work with parents and parenting through a Headteacher network meeting. The importance of family relationships cannot be underestimated and as such we felt using her skills to support our school community would be invaluable. The 8 week 'Family Jigsaw' course exceeded everyone's expectations, the feedback from parents has been overwhelmingly positive with lots of practical ideas to nurture a healthy loving family. We would highly recommend her work and vouch for the impact she can have on families."
"The course was brilliant, I loved it, Masha'Allah. Dr Ruby is a great teacher, she explain things so well. Dr Ruby, thank you for all that you have shared with us, may Allah bless you always Ameen! I really miss the course actually, it gave me 2 hours a week where I could concentrate on me and bettering myself for my kids. Insha- Allah, when my kids are older I will do the teenage one too :). I will try to continue to implement what you have taught us In Sha Allah. Thank you so much again!"
"The course was extremely beneficial, it helped me realise what I was doing wrong and see my children as individuals with deeper and more complex needs."
"Thoroughly enjoyed every week and was eagerly waiting for each session. I found sessions really useful and found myself change in many ways. I'm much calmer and think before I speak/react to my children."