Sacred Transitions
A 2-HOUR ONLINE WORKSHOP.
FOR PARENTS AND GUARDIANS
THURSDAY 13TH JULY 2023.
8PM-10PM.
£20 per participant
About The Workshop:
Transitions are challenging for many, but it is more so especially when you're a tween. Whether your children are moving from Y5 to Y6 or tweens in Y7 and Y8 at secondary school, they are likely to be experiencing growing pains, physically, emotionally and mentally. This shapes their spirituality and all these aspects work together to harness their well-being.
As parents and adults around children going through transitions and changes in hormones, you are not in control of the changes that impact them, and neither are your children, but you can pay attention to their feelings, concerns and needs by staying involved in their lives.
During these tough transitions to develop their self-esteem and self-efficacy to enable them to self-regulate is paramount, and is the single most important thing you can do to help keep them safe. It is also an effective way to support your children to make the right choices and prevent them from experimenting with high-risk activities.
The Workshop Addresses:
Puberty
Rites and Rituals
Establishing effective communication
Physical, Emotional, Mental and Spiritual well-being
Managing discipline and boundaries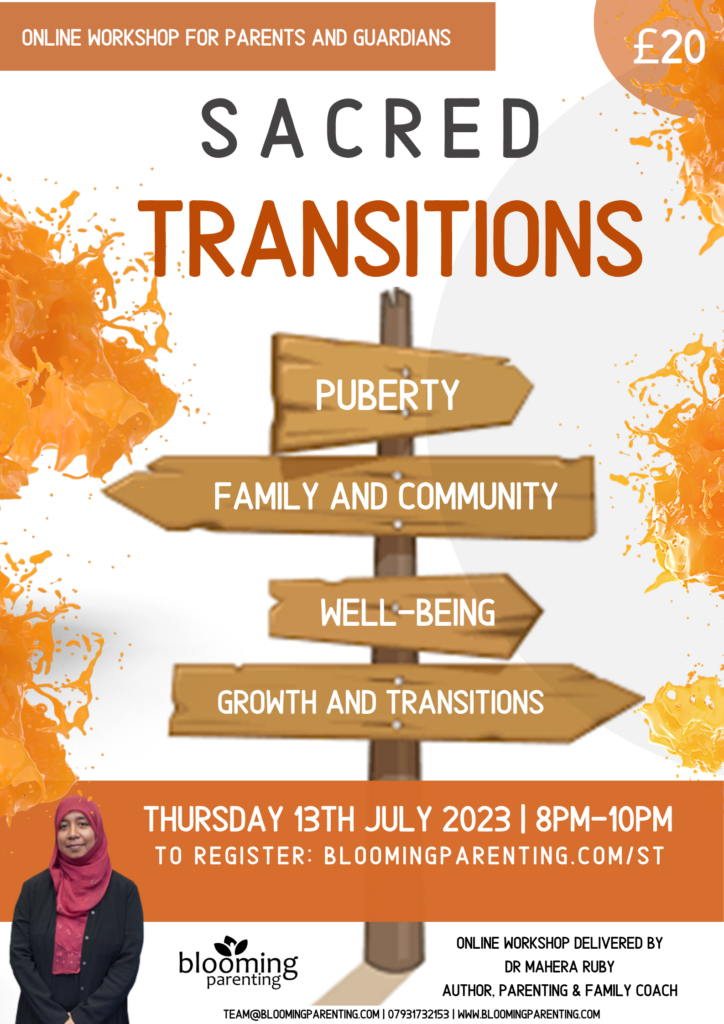 What Participants Say:
"It was such a relief to know I am not the only mother struggling with a tween! The activities really opened my eyes to what young people are having to deal with and I feel I have some insight and confidence now to talk to my children" – Zakia (Mother)
"My 9-year old has been asking some really difficult questions, this workshop helped me understand how to engage with my daughter even though I may not  always have all the answers"  – Shakira (Mother)