MODELLING FAITH LEADERSHIP
FREE TRAINING FOR 18-25 YEAR OLDS


ONLY 12 PLACES AVAILABLE!
If young people, particularly female youth can be engaged and nurtured, they have the potential to create positive change and add strength to our community, one which is currently hidden from public spaces.
This is a bespoke leadership training programme bringing together the teachings from Islam and the principles of Community Organising.
We are looking for a diverse group of 12 Young Muslim Women aged between 18 and 25 years. The training will take place over 4 sessions.
The participants will be selected via an online application process. During the course of the training the young people will have the opportunity to work with a fellow Christian group of young people to build relationships, understanding and plan a social action together.
THE TRAINING WILL:
Develop Muslim female youth leaders
Increase interpersonal and community organising skills,
Increase interfaith understanding between Muslim and Christian youth
Enable the youth leaders to deliver joint actions on community issues with a fellow Christian youth group.
The Training will be delivered by Dr Mahera Ruby and the two interfaith sessions will be co-facilitated by Edward from St Georges in the East Church and Mahera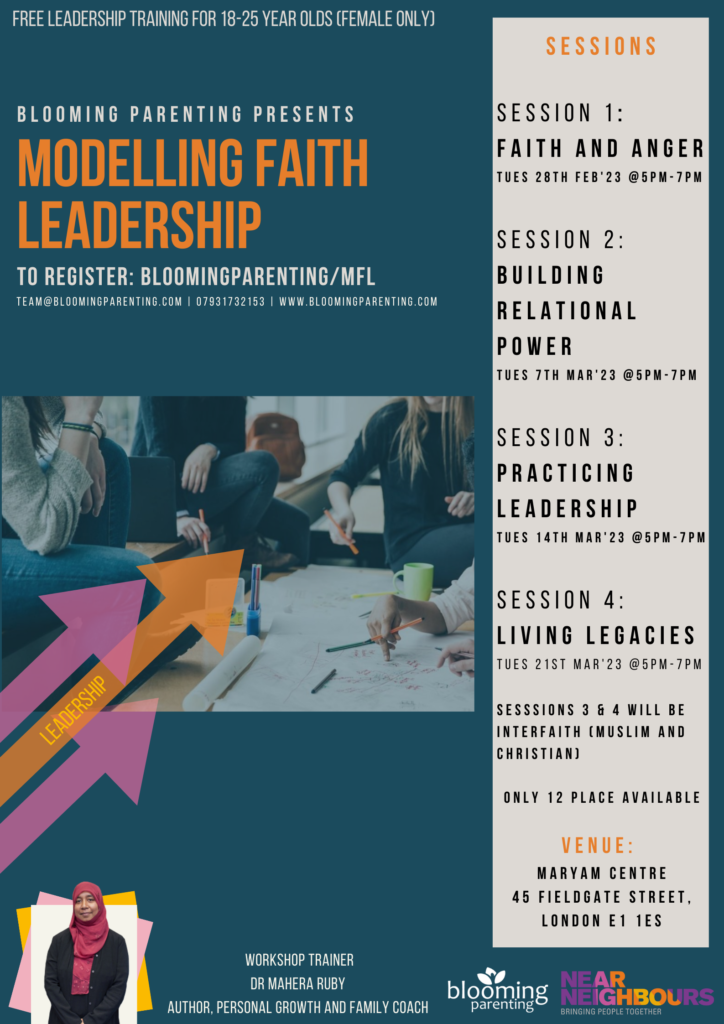 Dr Mahera Ruby is a Personal Development, Specialist Parenting and Youth coach. She set up Blooming Parenting in 2012 with a vision to reshape and strengthen families and communities. Through facilitating bespoke parenting courses, Mahera supports parents to nurture their children and youth to blossom into the gifts that they truly are. The youth courses challenge the young people to explore and reflect on who they are, who they want to be and the legacies they want to leave behind. Mahera has been a Teaching Fellow at UCL IOE. She completed her PhD at Goldsmiths, University of London, in the Department of Education in 2015. Mahera has authored many publications. She has co-authored her first book 'Interconnecting Worlds: Teacher partnerships for bilingual learning'. and her latest book 'Family Jigsaws: Grandmothers as the missing piece shaping bilingual children's learner identities' has been published by the IoE Press.
Mahera is a community organiser. She is currently a Trustee at Markfield Institute of Higher Education and East London Mosque. Mahera is involved in many interfaith projects and activities. She is an executive member of Tower Hamlets Citizens.